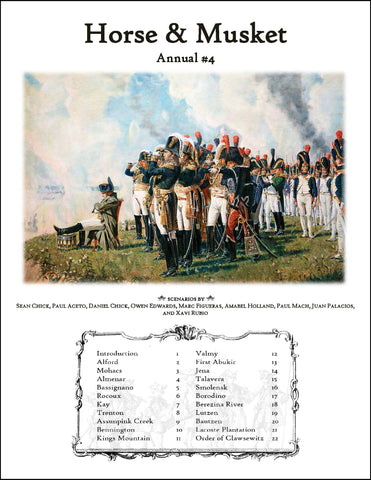 Horse & Musket Annual No. 4 (2023)
Scenario Design: Sean Chick, Daniel Chick, Owen Edwards, Amabel Holland, Paul Mach, Paul Aceto, Juan Palacios, Xavi Rubio
Duration: 60 to 90 minutes
Players: 2
Solitaire Suitability: High
Theme: 17th Century, 18th Century, Napoleonics
Series: Horse & Musket
MSRP: $20.00
THIS IS AN EXPANSION. You need to own some previous Horse & Musket titles to play it.

The long-awaited fourth scenario book for Sean Chick's Horse & Musket series adds twenty new battles taken from across the eras covered in all boxed games published to date. Ownership of the base game plus one or more expansions is required; ownership of all six will enable you to enjoy all twenty scenarios.

Battles marked with an "M" require the prequel volume, Horse & Matchlock; battles marked with a roman numeral require that numbered volume.

Alford 1645 (M)
Mohacs 1687 (V)
Almenar 1710 (V)
Bassignano 1745 (II, III, IV, V)
Rocoux 1746 (II)
Kay 1759 (II, III, IV)
Trenton 1776 (IV)
Assunpink Creek 1777 (IV)
Bennington 1777 (IV)
Kings Mountain 1780 (IV)
Valmy 1792 (III, IV)
First Abukir 1799 (IV, V)
Jena 1806 (V)
Talavera 1809 (IV, V)
Smolensk 1812 (V)
Borodino 1812 (V)
Berezina River 1812 (V)
Lutzen 1813 (V)
Bautzen 1813 (V)
Lacoste Plantation 1814 (V)
Related Products
---